Many schools may shy away from teaching young students about computer science and how to code — that's not the case for educators in Pinellas County, FL.
As part of the STEM curriculum in the district, first-grade students are learning how to code using Ozobot and we couldn't be more excited to highlight all of the great things happening in their classrooms!
That's why we're bringing you an extra special Outstanding Educator Spotlight this month with not one, but two fantastic teachers! Mary Wightman, of Highland Lakes Elementary School, and Janet Harmeson, of Orange Grove Elementary School, are working together in their district to help students in elementary think critically and creatively about the world around them through STEM education.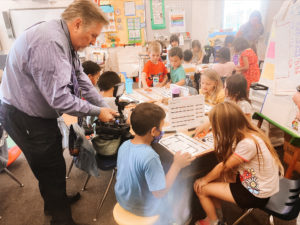 Read on to learn about how Mary and Janet use Ozobot and STEM curriculum to engage their students, their teaching strategies during the pandemic, and why they love being first-grade teachers in Pinellas County School district.
What have been your favorite Ozobot projects recently? What impact did they have on your students?
Mary: One of the first times that my students used Ozobots this year was during our Changing Motion science lessons. The Ozobots were a great way for students to show how things can change motion just by following a designated path.
Janet: This year I used Ozobots for retelling in Language Arts. Based on the modules and the assigned read-aloud, students listened to the read-aloud and created a detailed retelling board with illustrations and details from the story that explains the character(s), setting, beginning, middle, end, problem, and solution. Students coded the retelling board to allow the use of Ozobots to assist in retelling the read-aloud.
For example, the Ozobot traveled through the retelling board, which kept the student on track with retelling. If a part of the story had more details and required more time to retell, students would use a slower Ozobot code, and if the story required less time the student would use a faster Ozobot code. This implementation resulted in a dramatic increase in my student's ability to retell when using Ozobots.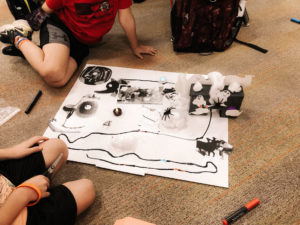 What are some of your key learnings from the last two years that you'll continue to use in 2022 and beyond?
Mary: Some things from the past two years that I will continue to use going forward are programs like NearPod and Kahoot. The kids love to interact with the games on Kahoot and the student response slides on the Nearpods. They are very active and keep the kids engaged.
Janet: My big takeaway from the pandemic as it pertains to teaching strategies is the increased use of technology in the classroom. I have learned that by introducing concepts using technology, students are more likely to get excited about learning and stay engaged throughout the lesson. During the pandemic, many students used technological devices for learning, so this kept kids intrigued and wanting to learn more.
Why is STEAM-based learning important in first grade and early childhood education?
Mary: STEAM-based learning is important in first-grade because it is hands-on and teaches the students that they need to sometimes revise their thinking. Not everything is going to work the first time you try it.
Janet: STEAM-based learning allows students to solve real-life problems while thinking outside the box. Students are given opportunities to become independent critical thinkers while encouraging creativity and problem-solving. First-graders thrive in a STEAM classroom because the student's inquisitive nature is coupled with STEAM's hands-on approach.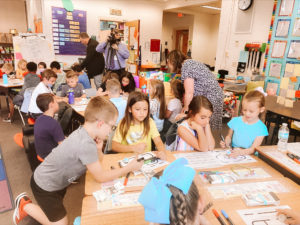 Why do you love being a first-grade teacher at Pinellas County Schools?
Mary: I think that one of the best parts about teaching first-grade in PCS is the support. I am at a school that has an amazing first-grade team and a wonderful administration that is always supporting each other in different ways. The curriculum that the county provides is very useful and engaging with the kids. They especially love when they get to do hands-on activities.
Janet: I love being a PCS first-grade teacher! First-grade allows for students to grow and become more self-reliant. Through hard work and motivation, students are learning to become independent learners and striving for self-sufficiency, which is simply the most rewarding part of my job.
Over the last several years, I have had the privilege of facilitating an after-school Ozobot Club, called the "Ozo- Squad" at Orange Grove Elementary. Students absolutely love the challenge of hands-on learning how to code using the pocket-sized Ozobots while practicing communication skills and following detailed instructions. It is so much fun!
To keep up with Mary, Janet, and all of the latest STEM activities happening in classrooms at Pinellas County Schools, follow @PCS_ElemSTEM on Twitter!