Are your students ready to take their Evo programming skills to a new level? Ozobot is thrilled to introduce the latest companion for Evo — Ozobot Crawler! Designed to inspire creativity, critical thinking, and problem-solving, Crawler provides an exciting twist on programming Evo* that will captivate students and spark discovery in the classroom.
A Fresh Perspective on Evo Programming
Ozobot Crawler offers a fresh perspective on Evo programming that challenges students to think beyond conventional bot movement. Crawler arrives ready to assemble, transforming into a bug-like structure where Evo sits, encouraging students to dive into the mechanical interplay between Evo and its new legs.
Two Ways to Code with Evo
Students can program Evo to move its new legs through Ozobot Blockly drag-and-drop block-based coding or Evo App Crawler Drive control. Whether students program Crawler to execute unique movements and actions with Ozobot Blockly or precision steering with Crawler Drive in the Evo App, Crawler provides endless opportunities for engagement and creativity.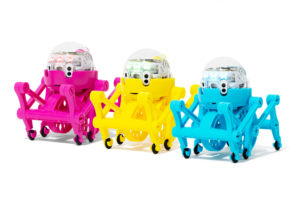 Empowering Critical Thinking and Problem-Solving
By designing, assembling, and programming Crawler, students will experience real-world challenges that will enhance their critical thinking and problem-solving abilities. Ideal for third grade and up, Ozobot Crawler is supported by NGSS-aligned lesson content available exclusively in Ozobot Classroom.
Every Crawler bundle includes six individually packaged Crawlers ready for assembly and instructions to download lesson content. Plus, each bundle features surprise colors, consisting of pink, yellow and blue, inside for added excitement!
Don't miss out on the opportunity to enhance learning and exploration in the classroom with Ozobot Crawler!
*Evo robot sold separately.