Meet Megan Farabaugh, an inspiring STEAM educator and Gifted Resource Teacher in the field of STEM at Suffolk Public Schools (SPS) in Suffolk, Virginia, and our featured Outstanding Educator Spotlight for January. With several years of experience in the classroom, Megan's innovative teaching methods and passion for her subject matter have made her a favorite among students and colleagues alike at Hillpoint and Nansemond Parkway Elementary Schools.  
In this blog post, we will dive into Megan's background, her favorite Ozobot activities and explore some of the unique programs she has implemented in her classroom. Join us as we celebrate the impact of this exceptional STEAM educator.
Describe key learnings from the last two years and tools you'll continue using in 2023 and beyond.
During the pandemic and school closures in 2020-2022, teachers had to change from the traditional way of teaching. March 13th, 2020, was a day none of us in my school district will forget. It was a learning experience for all students and teachers.
Suffolk Public Schools issued Chromebooks to all students in the district to continue their learning virtually. Teachers had to learn new resources and tools to engage their students remotely. When our schools were closed, my students could participate via Zoom with other students from different schools to complete projects. Tools and resources that I enjoyed using include Google Jamboard, Google Slides and Forms, Zoom, Padlet, and Flipgrid.
One benefit of the pandemic is that teachers had to step out of their comfort zone and find new ways to engage and teach their students. Teachers had to change their way of teaching — change is growth.
What have been your favorite Ozobot projects recently? What impact did they have on your students?
As a STEAM educator, there are a few ways that I use and implement Ozobot robots [Evos]in the K-5 classrooms. The little bots can be used in multiple grade levels, subjects, skills, and clubs. As a gifted resource teacher, I can go into many classrooms, pull small groups of students, and run STEAM clubs.
When I bring the Evos out during class, the students are always excited to work with them! Some things students say are, "Awww, how cute!" and "OMG, these are so cool!" or "Ms. Farabaugh, I want one! Where can I buy one?"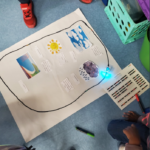 A recent memorable project we did was in third grade with the water cycle. Students had to create a model of the water cycle using Evo. Students had to add pictures, use their vocabulary words and definitions, and describe the Color Codes they would use for each "stop" on the cycle. Evo was a water molecule traveling through the cycle. Some students added multiple Evos to their cycle to show more than one water molecule traveling.
In one of my middle school classes, a favorite science lesson was creating elements from the periodic table using Evo. The bots were electrons traveling in the valence shells.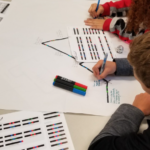 Another fun STEAM lesson we did in middle school was in my English class. Students used Ozobots to create a plot diagram of a story they were reading, and they coded their bot accordingly.
During these activities, the smiles on their faces are truly a wonderful thing. Plus, not only are students showing the knowledge they learned, but they are also using coding skills.
Why did you want to become a teacher? Is there someone who inspired you when you were younger?
I grew up playing with many kids of all ages in my neighborhood. I always loved being the "teacher" when we used our imaginations playing "house" or "school."  I also had a habit of protecting and defending the younger kids in the neighborhood from the older kids. Compassion and empathy for animals and other humans also impacted my choice and desire to become a teacher.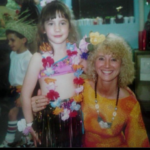 Mr. Geidel (third grade), Ms. Crawford (first grade), and Ms. Patty (kindergarten) are three teachers that inspired me and impacted my life significantly. Those teachers always made me feel smart and valued. We had a great classroom community and family. When I had to stay home because of chicken pox, Ms. Crawford sent me a get-well card with all of my classmates' names signed in it. Mr. Geidel always made me laugh, and Ms. Patty had such a kind heart.
What made you interested in teaching STEAM? What is your favorite part about being a STEAM educator?
As a classroom teacher, I was always interested in hands-on projects and problem-solving. When I worked with a gifted resource teacher, Elizabeth Petry, she introduced me to Lego Mindstorms and engineering design briefs. I loved the activities and how the students responded to them. Leaving the classroom and becoming a gifted resource teacher, I continued learning about STEAM, 21st-century skills, and project-based learning.
When my STEAM interest started blooming, I reached out to the science supervisor, the supervisor of advanced instruction and gifted, and the division technology department. They steered me in the right direction for professional learning, projects, funding grants, and resources. After researching and participating in the Hour of Code, I realized there was a great need for STEAM in schools, especially with girls. I started an all-girls STEAM club with grants that I received.  I got Google to come to my school two years in a row to highlight their new virtual and augmented reality platforms to my students. Seeing the excitement and learning, they could not get from a physical textbook was amazing! From then on, I knew I needed to keep these learning experiences going!
We, as educators, need to give our students a well-rounded education that will prepare them for their careers and future.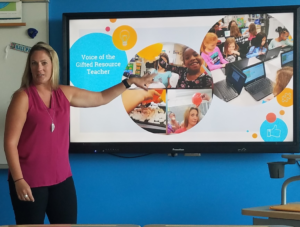 Providing our students with experiences and tools they may not have at home is why STEAM education is essential. Students come from all different backgrounds. Any student can "DO" STEAM; students of different socio-economic backgrounds, races, gender, ability levels, and ages. I provide professional development to other teachers in my district so they can learn to incorporate technology and robotics into their lessons. I strive to be a resource to those teachers. The SPS Tech Department was and still is always very supportive of new technology and providing those resources to our staff.
My absolute favorite part of being a STEAM educator is when students have fun while thinking critically, problem-solving, and using technology. I love seeing their little light bulbs turn on and shine so brightly!
To keep up with the latest from Megan and her classroom activities, follow her on Twitter @megfara.  For STEAM lesson inspiration and ideas, head over to Ozobot Classroom.