Who better to help close the CS opportunity gap than a computer scientist turned teacher? A 2021 MA Teacher of the Year Semifinalist and Ozobot Certified Educator, Sheila Slawiak started out with a CS and IT professional career before teaching grades 6–8 for 16 years. Today, she teaches computer science for grades 9-12 and develops effective teacher training and edtech activities at Pope Francis Preparatory School.
Sheila Slawiak, CS and IT Teacher | Pope Francis Preparatory School
Sheila is a dedicated computer science educator in Massachusetts, where, according to code.org there are currently over 13,000 open computing jobs with an average salary of $105,000, yet under 3,000 CS graduates each year. Sheila is passionate about giving more students an opportunity to pursue a computer science or STEM/STEAM career.
For the last seven years, Sheila has focused on integrating CS into core content areas, like ELA, science, and social studies. Content-integrated CS lessons like hers can help all educators prepare to meet the new CS standards that have been adopted in most states as of 2021.
Programming a Story's Literary Elements with Ozobot Evo
Evo Tells the Story of the Wizard of Oz is just one of Sheila's standards-aligned, content-integrated lesson plans in the Ozobot Lesson Library. In developing the two-week middle school lesson, she also collaborated with CS and ELA Teacher Christopher Plasse.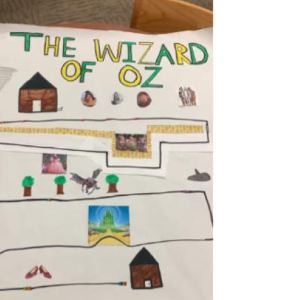 Full Lesson Plan >
Grades 6–8 | Color Codes | Evo
In this lesson, students create a course for Evo using Color Codes or OzoBlockly and visual elements–all to tell the story of The Wizard of Oz. They program Evo to act out the story from a third-person viewpoint.
In 2020, the lesson was accepted at the NERD Summit at the University of Massachusetts Amherst, where Sheila's students would have presented their work if COVID-19 hadn't interrupted that year's plans. Sheila was able to share Evo Tells the Story of the Wizard of Oz, however, when her proposal was accepted for MassCUE's virtual conference in the fall.
A Winter STEAM Challenge
Last winter, Sheila's delighted her high school students with another Ozobot project–an end-of-semester challenge where their criteria was to integrate Evo with Scratch and Makey Makey. One class chose to create a cross-section of the school with cardboard, then had Evo tour the school. Here's Sheila on how her students combined their skills and interests over the course of their project: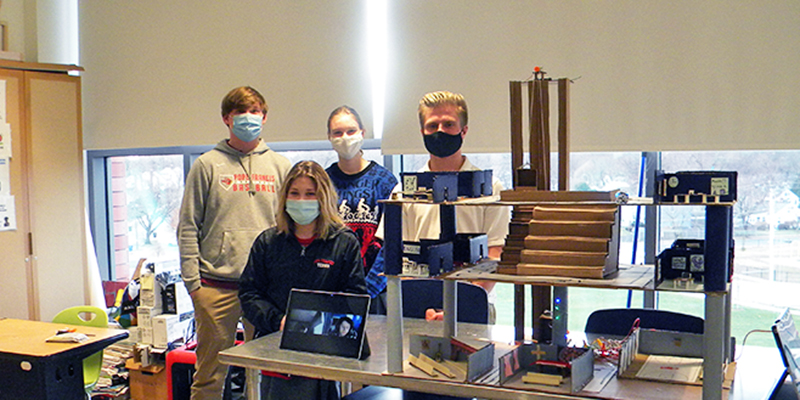 "One of my students synchronized the tour with the Scratch presentation, which explained each subject area like ELA, history, science, math, religion, etc. Another pair of students lit the lights around the pole with Makey Makey… One of my seniors took an engineering design course and was happy to discover that engineering & CS can unite, hence the elevator! I was so happy when he made that discovery! Another senior wants to become an interior designer so she made all the furniture and decor in each classroom and shared areas of the school."
Another class designed a holiday village: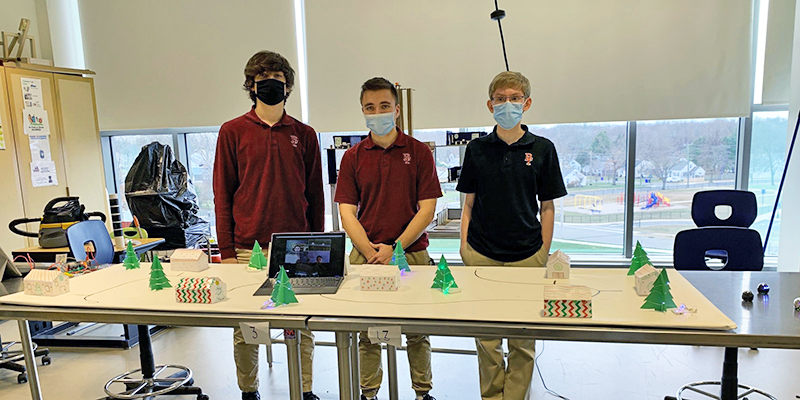 "Evo toured the village and every time Evo stopped at a home, it played a Christmas song. My student who programmed Evo used Mode 5 Blockly programming language. He loved creating the songs using the music found under [the Sounds Category] and he also programmed Evo's tour using the line navigation blocks. The Scratch program played a few holiday poems."
At Ozobot, we want to empower talented educators like Sheila and help them and their students reach their goals. We make it easy to:
Meet new CS standards, like MA's Digital Literacy and CS Standards;
Integrate CS into lessons that also address learning loss for math, ELA, and science;
Get student working hands-on, from anywhere;
And give more students opportunities to pursue CS and STEAM careers!
To learn more about how your school district could benefit from an ESSER-qualifying Ozobot robotics program, request a demo from an Ozobot Account Executive.