The elves on our EDU team have been hard at work on this latest installment of our Learn Anywhere lesson series. Below, find ready-to-run, remote-friendly activities celebrating multiple winter traditions–Hanukkah, Christmas, and Kwanzaa–for all grades (K–12). These lessons are aligned with ISTE, CSTA, and NGSS standards as well as Common Core State Standards for Math. They are designed to be completely flexible for remote or in-person learning. Each lesson comes with step-by-step video instruction and is designed to be self-guided and self-paced as needed. 
Note: need bots for all your students to take full advantage of these Learn Anywhere lessons? Request a demo today to learn more about our 1:1 program–you might be surprised by the federal and state initiatives it qualifies for!
Discover Ozobot's full Learn Anywhere lesson series and get detailed steps for remote and in-person instruction here:
If you're new to Ozobot's remote-friendly Learn Anywhere lesson series, start with Weeks 1-4 to introduce students to their Ozobots and Color Code basics. Once you've completed those intro lessons, dive into the lessons below. These lessons use Ozobot Evo and Color Codes to increase student engagement, integrate CS, and get kids working hands-on from anywhere.
Grades K-12
Color Codes
Recommended pacing: 1 lesson a week
Length of each lesson: 30-45 mins
Dreidel Bot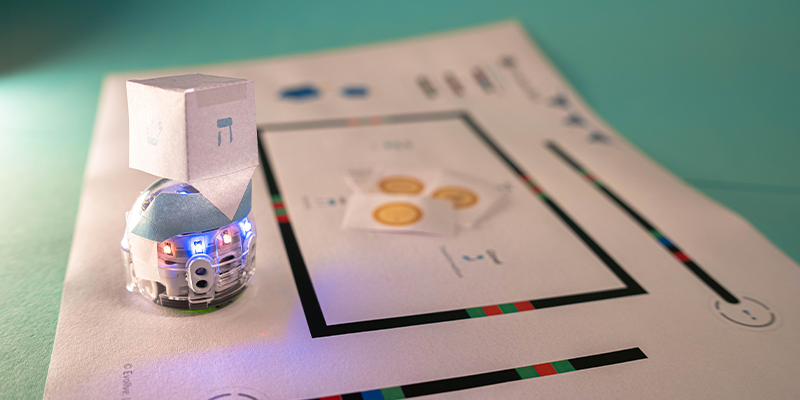 In this STEAM lesson, students will transform Evo into a dreidel using papercraft, then use Color Codes to program a dreidel game. As they go, they'll model how computer hardware and software work together as a system to accomplish tasks.
For Teachers:
For Students:
Reinbot Landing Practice
Santa's reindeer need to be very precise to land on a rooftop. In this activity, students will use launchers and Color Codes to ensure their Reinbots stop somewhere on their targets, all while brushing up on some math skills.
For Teachers:
For Students:
Decorating the Kwanzaa Unity Cup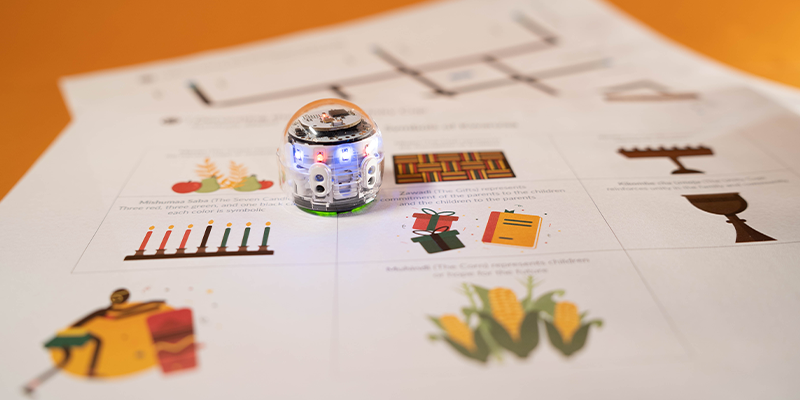 In this lesson, students will identify the seven basic symbols of Kwanzaa. Then, they will use Ozobot's random decision making to select symbols and elements to help them create a decorative sleeve for a Unity Cup.
For Teachers:
For Students:
Ready to start using the lessons above? Find detailed steps for remote and in-person instruction here:
You can also register for one of our upcoming webinars to learn more and meet the team who creates our lessons!