You asked, we answered. Your favorite standard-aligned, video lesson supported curriculum you loved for Color Codes is coming soon for Ozobot Blockly instruction! 
Designed to be taught alongside Evo, our new Introduction to Ozobot Blockly Curriculum brings computer science to any classroom, with hands-on learning portfolios for students, culturally responsive video lessons, and teacher's guides that minimize prep and the need for coding or robotics experience.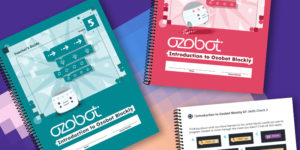 Created by credentialed educators with classroom and curriculum development experience, Intro to Blockly Curriculum is available for grades K-5. Key features include:
CSTA-aligned lessons
Ready-to-go activity sheets
Direct-instruction video lessons to enable easy and efficient learning
Skill checks for each grade level to provide confidence in the classroom
Code Challenges to encourage engagement, problem-solving and critical thinking
What's included?
Student portfolios sold in 12-pack bundles
Sold separately:
Teaching and learning to code with Ozobot Blockly is now easier than ever! Sign up for the waitlist today to be notified when the workbooks are available and ready to ship.
For school and school district orders, please contact an Account Executive. 
Ready to get started using Blockly now? If you haven't created your free Ozobot Classroom account yet, sign up for free to access over 700 standards-aligned lessons and activities!