November is a time of thanks and a time of giving. We're marking the occasion by recognizing John Kell, an impressive STEAM educator who constantly gives his all and more to students, as our featured Outstanding Educator Spotlight this month.
An eighth-grade math teacher and STEAM Instructor for grades 1-8 at Daisy Gibson Elementary in Palmdale, CA, John Kell has spent 18 years and counting at the school, mentoring and guiding students toward higher academics and fields of STEM through after-school activities, hands-on projects, and continued awareness. His program won the Gold Ribbon award for being a CA distinguished school with a STEAM focus, and he is also the director of the FEMINEERS (Female Engineers). This separate after-school program focuses on empowering girls toward STEAM-related college and career fields.
Continue reading to learn more about John and his passion for bringing STEAM into the classroom.
1. What are some of your key learnings from the last two years that you'll continue to use in 2022 and beyond?
As a STEAM educator, when the pandemic hit, I feared that I would not be able to promote the same engagement with my students. However, I had a moment to decide that this was actually the best time to truly incorporate a Flipped Classroom Learning model, where I could intentionally implement the four pillars of this pedagogical approach and allow me to move from whole group direct and guided instruction into a more individualistic, student-centered learning environment.  
Google Classroom provided me with a platform that allowed for flexible expectations and timelines of my students, as well as a transparent way to assess them formally and informally. Flipgrid is another wonderful tool that was really the center point of my flipped learning approach as I increasingly went from instructor to facilitator by allowing students a greater voice in their learning. Padlet, an online post-it note tool, is another wonderful resource that helped me assess students quickly to determine where the lesson would begin and how much reteaching or frontloading I might need to do. Finally, my students and I used VISME for interactive presentations, infographics, and concept maps. Unfortunately, VISME comes with a cost attached, so I no longer use this platform.
Today, I continue to use flipped learning in the classroom, and while it has its challenges, the benefits far outweigh them with the tools and resources that the students and I both use that stemmed from necessity over the past couple of years.

2. What have been your favorite Ozobot projects recently? What impact did they have on your students?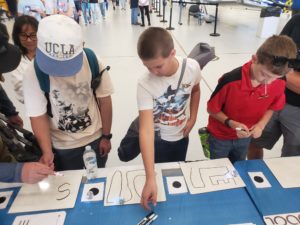 There are three ways I use Ozobot at my school and beyond. First is during summer school, where I am the STEAM educator in charge of developing STEAM activities for grades 1 – 8 incoming. I use Ozobot for grades 1 – 5, starting in grades 1 – 3 with Color Codes and moving into block coding for grades 4 and 5 with Ozobot Blockly. 
Ozobot is also my go-to for professional development outreach to other schools, which I love to do because only some students receive STEAM instruction, and robotics. I enjoy working with lower grades because much of robotics is a bit too elevated to teach them at an Expo or workshop, or they simply get to 'play' with them without any real learning. Ozobot allows all ages of students to learn in an intuitive and creative way. In a couple of weeks, I will participate in one of the largest STEM Expos at our local air show. With 12,000 students expected to be there, my Evo robots will be well-used and received.
In eighth grade, I instruct students to make learning games, such as a timeline of the events that lead to the Revolutionary War in the form of a maze that the students have to traverse by being able to follow the correct path of events leading up to the war. There are so many uses for Ozobot that allow me to make learning more student-centered and enable students to be creative in their learning. 
3. What made you interested in teaching STEAM? What is your favorite part about being a STEAM educator? 
I got interested in STEM because there was a need. Students had access to sports programs but nothing that revolved around hands-on learning like I did when I was a kid, such as woodworking and home economics. I started small and discovered a whole new world of exciting possibilities that I could open for my students. Today, Daisy Gibson is a STEM School that has earned the CA Gold Ribbon, and we are a Project Lead the Way distinguished school. My afterschool program, FEMINEERS, developed from Cal Poly Pomona, has over 50 girls from grades 6 – 8. This year they are creating an art gallery of moving masterpieces, and later, they will create a robotic petting zoo. Most importantly, I'm proud to be Gibson's STEAM Coordinator, who can help teachers discover what STEAM means to them and how they can incorporate and integrate STEAM into their daily curriculum.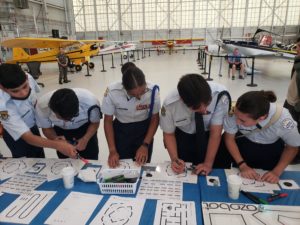 4. What inspired you to become a teacher and STEAM educator?
It was my wife who thought I should be a teacher. She's always seen the fire in me that sparks my productivity and creativity. I didn't become a teacher until I was 40, but I believe that's a plus, as all of the experiences I've gained over the years have really helped me understand what it means to be a teacher and to teach my students. When I teach, I offer students more than what's in the book; I offer them a world's eye view of current events that correlate to what's taught in my classroom.  I don't know if I could do that as well if I did not have those years of experience behind me. 
5. What do you like most about teaching 8th graders?
I love the 8th-grade curriculum. I love math, and in eighth grade, we hit on many concepts that I interpret through art and science. Eighth grade is difficult because they are 13, thinking they are 30, and to them, socializing should be a part of their daily routine.  As such, they tend to be a bit unfocused unless I engage them. Luckily, they are impressed and curious when I introduce them to a new concept that relates to their lives, and they really enjoy hands-on activities that lead to their own discoveries, despite how it might lower their cool factor.

To stay up to date with John Kell, follow him on Twitter @kwyksylver.