"STEAM education is an approach to learning that uses Science, Technology, Engineering, the Arts and Mathematics as access points for guiding student inquiry, dialogue, and critical thinking. It encourages students to use critical thinking and take risks in out of the box thinking, (What is STEAM Education, Arts Integration)."
Emilie Workman is a STEAM teacher for grades K-6 in Baldwin County, Alabama and has been encouraging her students to use critical thinking for the past 23 years. 
Continue reading to learn more about Emilie and her excitement for bringing STEAM into the classroom.
As we reflect on the last two years that were unlike any others, are there any tools or resources you used in 2020-2021 that you'll continue using in 2022/2023 and beyond?
Baldwin County Schools went back to in-person learning with masks in the fall of 2020, so the only virtual learning experience I have encountered was from March through May of that year. Due to the pandemic, our county now has a few built-in e-learning days within the school calendar. In our county our students are 1:1 with devices, and we use Chromebooks. Students use the Chromebooks daily and take them home nightly
The continued use of technology and e-learning days help students be prepared for virtual learning if needed. I am encouraged by the improvements made by many resources/websites we used prior to the pandemic. I think the improvements made were due to the increased demand stemming from the massive amount of students that continued to be virtual through the 2020-21 school year.
We use Google Classroom as a digital platform for our classroom learning and will continue to use it in years to come. I enjoy using Ozobot, Dash robots, Micro:bit, Makey-Makey, Flip-grid, See Saw, We-video, Adobe Spark, Discovery Education, and many other resources we have at our school to teach standards. These resources have really improved the last two years to make it very simple to use with all grade levels.
Please describe one (or more) Ozobot project(s) from this school year and the impact it had on your students.
I have used many of the Ozobot lessons from the online library of lessons that is offered on the website. These lessons and videos are awesome!! They are easy to follow, understand, and prepare. The students absolutely love these lessons. The lessons in the library also allow me to use what I need based on the time that I have. The Ozobot lessons can be assigned for students with video directions and steps to follow which can be assigned to the google classroom as well as the ability to adapt for a whole group lesson and activity if chosen.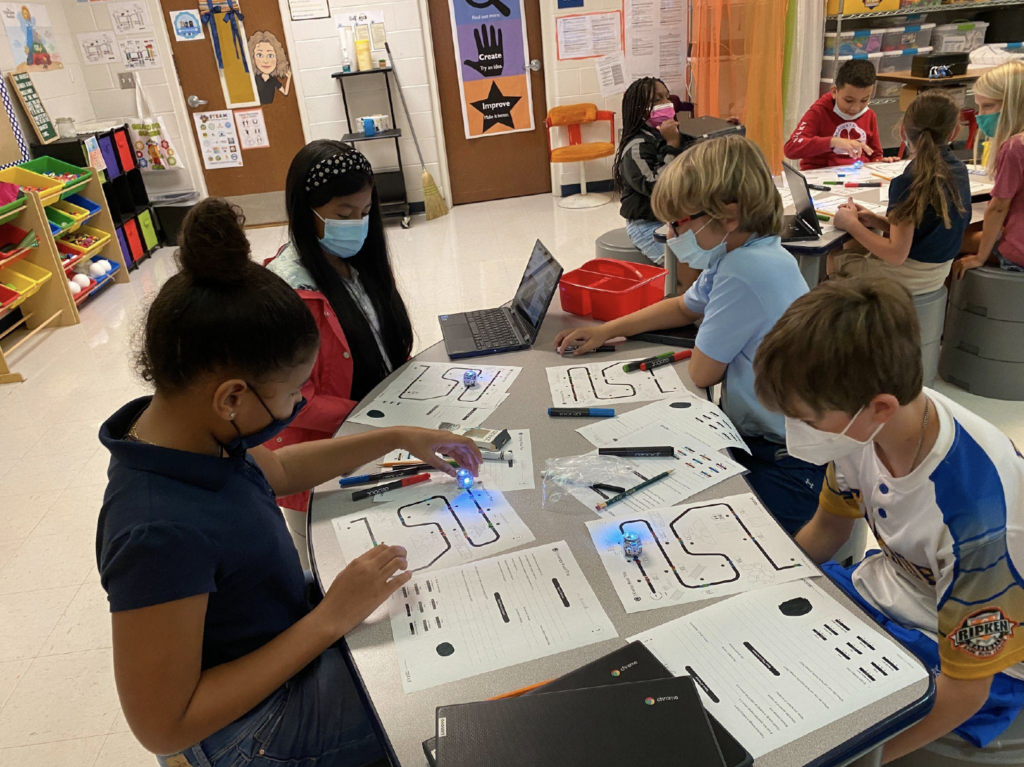 I have used the energy road trip lesson with all fourth graders at our school. Students were studying potential and kinetic energy in the classroom and could apply their knowledge to this activity when they came to our STEAM lab. The students enjoy this lesson each year. The kindergarten and K-4 students at our school have used the Evo's to practice the letters in the alphabet and the recognition of numbers. The lesson library has great tools to use that allow students to practice tracing the letters and numbers then watch Evo follow their line using Color Codes. I love how Evo can be used at any grade level with all students to aid in their learning.
The cross-curricular lessons have also been very valuable to me and other teachers on our Campus.
The fifth grade teachers and I used the constellation lesson from the Classroom library and slightly modified it to meet the needs of our students. Students had been learning about constellations in the classroom and were able to create constellations in the STEAM lab, code their constellations, then have Evo travel their constellations. We could also tie in math with scaled distance between the stars to form the constellations.
I have also used many of the holiday activities that are posted in the lesson library because they are great problem solving activities and fun. The students enjoy them so much that they don't even feel like they are learning when they are using Evo. Many of these fun lessons teach the students the needed problem solving skills, perseverance, and collaboration when working with other classmates.
The first grade teachers created a lesson using Evo to help them teach some of their social study standards. The students were learning about the local government leaders and the state in which they lived. We found an outline of our state and dressed Evo as the governor. The students had to code a path from the capital of the state to the city where the students lived.

You're someone who's passionate about making CS accessible for every student. How would you "grade" the current state of CS education in your state? What do you see changing or hope to see change in the coming years?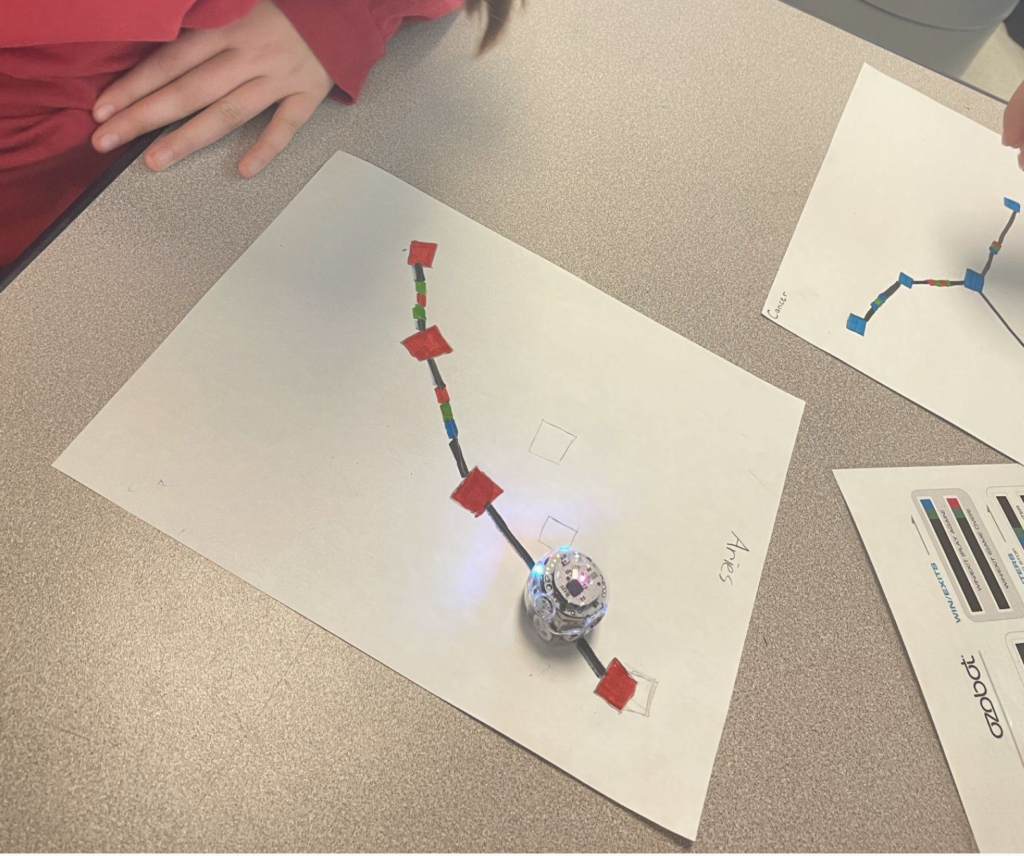 I teach in a county of our state that is very fortunate to have a variety of CS resources readily available at our fingertips. I am also lucky to be at a school that believes in STEAM education and empowering students to lead their own learning. I know that there are schools in our county that don't have the resources that our school has and there are counties around the state that don't have 1:1 devices. So, we are very fortunate!
I hope that more teachers will see the value in STEAM education and will be motivated to learn themselves through Professional Development so that they will feel comfortable in their classroom using the technology. My teaching is a little different in that I am not afraid to let the students know that I don't have all the answers when using the new technology, but that we will figure it out together. Sometimes not having all the answers teaches students problem-solving skills as well. Technology is constantly changing and it can be difficult to keep up with if you feel like you have to know everything before using it with the students. My students are constantly teaching me or we are learning together.
What is your favorite part about being a STEAM educator?
I just started my twenty-third year of teaching and I absolutely love what I do. I have taught many different grades over the years and have been out of the classroom as a Math Coach for a period of time before returning to the classroom. I recently moved to my current position as STEAM Coach beginning the 21-22 school year. In this position I am able to teach all K-6th grade students during a STEAM class and assist teachers in the classroom with STEAM Education.
I am able to work with the teachers to discuss the standards that they are teaching and determine how the time in the STEAM lab can help the student's learning. The teachers also stay in the STEAM lab during this time to learn alongside the students and help as needed. I enjoy watching the students learn and discover new things while in the STEAM lab. It also helps that I get to have a lot of fun with the students during the lessons I teach and there is never a "dull" moment.
Why did you want to become a teacher? Is there someone who inspired you when you were younger?
I have been around teaching and education my entire life. My mother was a teacher, assistant principal, then principal before retiring. Even in retirement she is an online education instructor for college students. I also had awesome teachers in school that have shaped me into who I am today. Teaching elementary students was something that I also wanted to do. I love working with and teaching students. Seeing students' new learning or "light bulb" experience never gets old. I was recently walking in the school building as the car line was continuing and one of our kindergartners was getting out of the car and with much excitement she said, "Mom, mom, look it's the STEAM girl." Teaching children with STEAM brings so much excitement not just to them, but me as well.
What grade do you teach and why do you like teaching that age of students?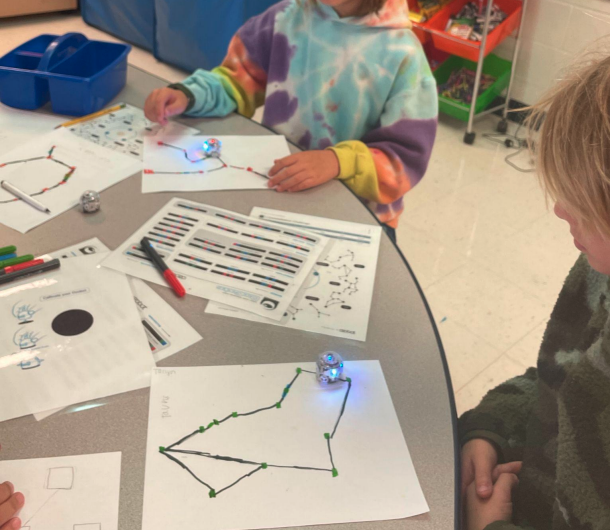 I have the pleasure to teach and shape all grade levels K- 6th with STEAM learning. Each grade level brings a different challenge and enjoyment to teaching.
What made you interested in teaching STEAM?
STEAM is a relevant way of teaching the standards and an easy way to make connections with all the content areas. As a professional educator I also try to model the idea to others as being a "lifelong learner". I have been interested in STEAM learning because it is the way forward in education to help our students be prepared for secondary education and jobs when they graduate. STEAM learning is engaging, motivating, and relevant for students which makes me interested in continuing my own growth.
"What Is Steam Education?" The Institute for Arts Integration and STEAM, 8 Sept. 2022, https://artsintegration.com/what-is-steam-education-in-k-12-schools/.